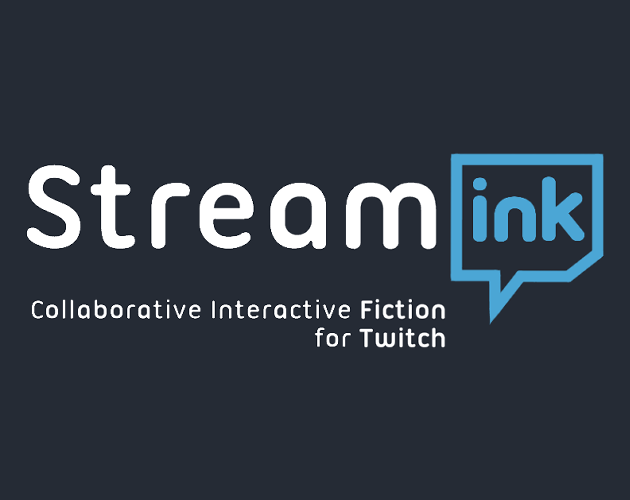 StreamINK
A downloadable collective experience for Windows and Linux
What's Stream
Stream

is a moddable game that allows you to play conversational adventures in your Twitch Streams. Your viewers can vote and decide how the story progresses.
Play your own stories
You can play your own INK stories in your streams!
INK is an Open-source powerful narrative scripting language developed by Inkle Studios that is primarily designed for professional game development, though it can also be used to write and share choice-based interactive fiction.
To add new stories to your game, copy the INK file to the StreamingAssets folder in the game directory (StreamINK/StreamInk_Data/StreamingAssets) and restart the application.

How to Play
Your viewers can choose their favorite option by typing the option number in the chat. At any time, you can click on the play button to pick the most voted option! If there is a draw, a random option will be picked.
Note: due to twitch limitations, the viewers can't send the exact same message within the next 30 seconds. They can add any word after the option number to vote if they are affected by the cooldown. (e.g. "2 is the best one!")
Notes and recommendations
Only Latin Alphabet supported.
Showing many choices or with many characters might cause some options not to be visible. Please keep it short and simple!
INK comments are ignored.
No special functionality as hyperlinks can be used.
Rich text tags supported.
Remove the Spam filters from your twitch channel.
Stories included in the game
In this release, there are three stories included in two different languages:
Sapphic simulator (Spanish and English) - Rothio Tome
Ghost Inc (English) - Ludipe
The intercept (English) - Inkle Studios
Cuando sales a comprar el pan (Spanish) - TonyJDev
I'd love to increase the number of stories included with the app and create packs specific to each language. If you want your story to be included in this app, please don't hesitate and send me a message :D
This is an alpha release. If you have any suggestions or find any bugs, please write an email to rothiotome@gmail.com.
Download
Click download now to get access to the following files:
StreamINK-Windows-v0.2.2.zip
23 MB
StreamINK-Linux-v0.2.2.tar.gz
22 MB
Comments
Log in with itch.io to leave a comment.
As an IF dev, I can't wait to try this on stream.
This sounds awesome, I'll have to check it out when you use it :)